March is National Nutrition Month®, an annual campaign by the Academy of Nutrition and Dietetics. The theme for 2021 is "Personalize Your Plate," acknowledging that there is no "one-size-fits-all" approach for optimal health and well-being.
What better way to celebrate National Nutrition Month® than exploring nutritious foods from cultures around the world? This month I'm sharing just a few ways to personalize your plate while expanding your taste buds!
-Stephanie
Personalize Your Plate & Expand Your Palate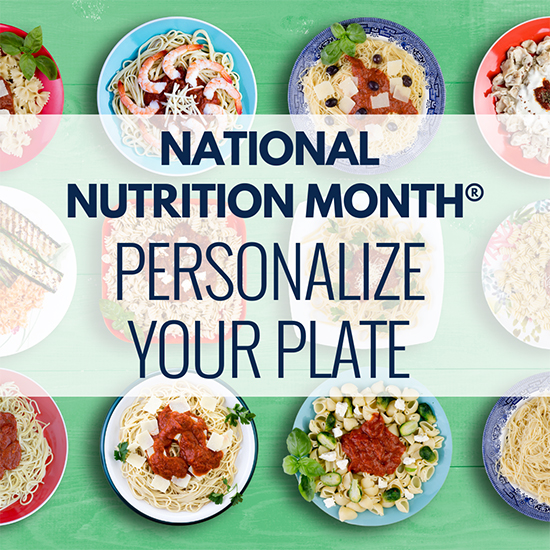 Our plates are often reflections of the unique backgrounds and goals representing who we are, wherever we are. The way we personalize our plates may differ, but choosing a variety of nutritious foods is universal. Fruits, vegetables, grains, protein, and dairy come in many shapes, sizes, and colors. Combining these groups can help personalize a plate that represents who you are. I hope you enjoy this inspiration from cultures around the world!

Asian Indian Cuisine
Besan Cheela: savory pancakes made with chickpea flour and vegetables with extra tomatoes and spinach on the side, and a cooked egg
Rajma: kidney beans in onion, tomato sauce, and spices with brown rice, green leafy vegetables of your choice
Laal Maas: lamb served in a hot garlic sauce over brown rice and vegetable raita (yogurt dip), and a non-starchy vegetable like cauliflower
Cashews, almonds, or other nuts with dried fruit (or Lassi: yogurt blended with fruit, herbs, or spices)
Chinese Cuisine
Congee: Rice porridge, often served with fish, chicken, peanuts, or egg, with soy milk and an orange


Da Pan Ji: chicken stew with potatoes, ginger, and garlic made with bell peppers and carrots, served over whole-grain noodles
Wonton Soup with water spinach and lotus root, and a persimmon
Sweet red bean soup
Filipino Cuisine
Arroz Caldo: Chicken and rice porridge with ginger and garlic, with a boiled egg, sautéed leafy greens, and fruit
Chicken Adobo: Chicken marinated in soy sauce and vinegar, served with brown rice, cucumber relish, and sautéed eggplant
Paksiw na Isda: stewed fish and vegetables, served over brown rice with a side of pineapple


Boiled yams and a glass of milk or soy milk or fresh fruit and yogurt?
Latin American Cuisine
Scrambled egg with tomato, onion, and peppers in a corn tortilla or arepa with cheese
Fish tacos with avocados and salsa, sautéed chard and pineapple
Arroz con Pollo: seasoned chicken and rice with a side of peppers, tomatoes, and chayote squash
Raw vegetables dipped in guacamole
Middle Eastern Cuisine
Zaatar mixed with a little olive oil and spread on a whole wheat pita bread, then topped with tomato slices, olives, cucumber, and mint
Mahshi (stuffed zucchini) and Fattoush (lettuce, fresh parsley, diced tomato, radish, cucumber, and onion in sumac dressing)
Chicken breast roasted in the oven with potato slices, lemon juice, garlic, and olive oil
Hummus with cucumber and carrots
4 Steps to Personalize Your Plate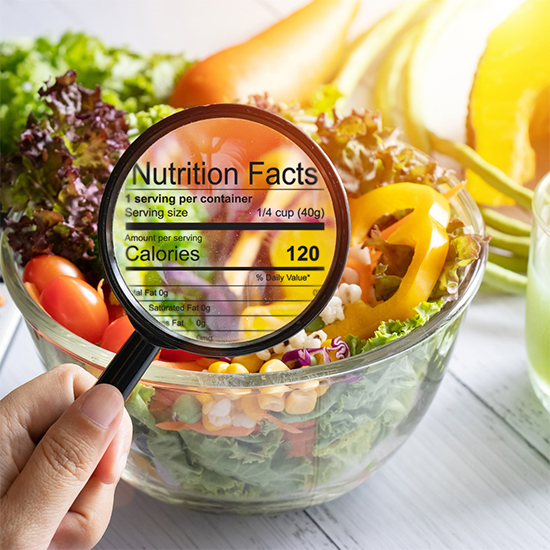 Adapted from The Academy of Nutrition and Dietetics ,here are some simple tips for personalizing your plate!

Eat a variety of nutritious and wholesome foods each day.
Include an array of foods from all food groups.
Learn to read the Nutrition Facts Panel.
Take time to enjoy your food and avoid distractions.
Hydrate healthfully.

Plan for success! Planning your weekly meals can help ensure you are eating for a strong and nutritious body.
Make a grocery list before going shopping for food.
Dine out wisely, selecting nutrient-rich foods that limit saturated fats, sodium, and added sugar.
Explore new recipes to keep variety in your menu.

Embrace new skills in the kitchen! Learning to cook with confidence will be the foundation for creating a lifetime of healthy and nutritious foods.
Keep healthful ingredients on hand.
Practice proper food safety.
Share meals as a family.

Consult with a Registered Dietitian Nutritionist (RDN)!
Ask your doctor for a referral to an RDN.
Receive personalized nutrition advice to meet your goals.
Find an RDN who specializes in your unique needs.
Watch yourself grow into a healthier, stronger, and more confident person by understanding good food and nutrition.
Featured Recipe
Roasted Red Pepper Dip with Veggies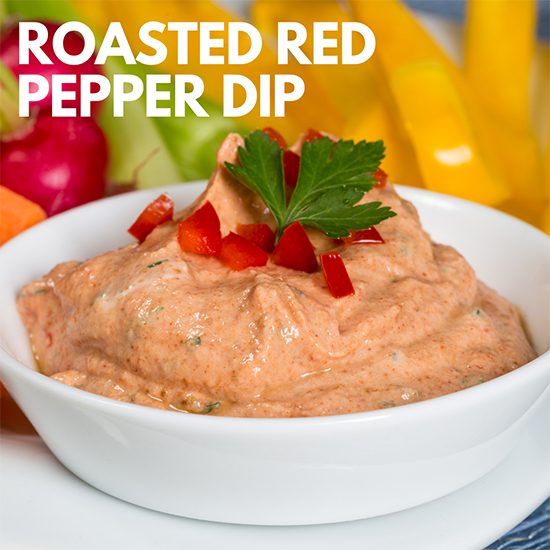 Prep Time: 10min, Cook Time: 5min, Makes 5 Servings

Ingredients
1 (12 oz.) jar roasted red peppers, drained
2 (8 oz.) containers of low-fat plain Greek yogurt
1 (4 oz.) can green chilies, chopped and drained
1 garlic clove, minced

Purée red peppers in a food processor and drain any excess water. Add yogurt, green chilis, and garlic. Mix until blended. Refrigerate. Serve with assorted cut vegetables or whole-grain pita wedges.

Nutritional Facts
Calories: 90, Total Fat: 2 g, Saturated Fat: 1 g, Cholesterol: 5 mg, Sodium: 270 mg, Calcium: 20% Daily Value, Protein: 5 g, Carbohydrates: 12 g, Dietary Fiber: 0 g
Be Inspired
"During National Nutrition Month®, help the Academy achieve its vision of a world where all people thrive through the transformative power of food and nutrition."
- Academy of Nutrition and Dietetics
About SO Nutrition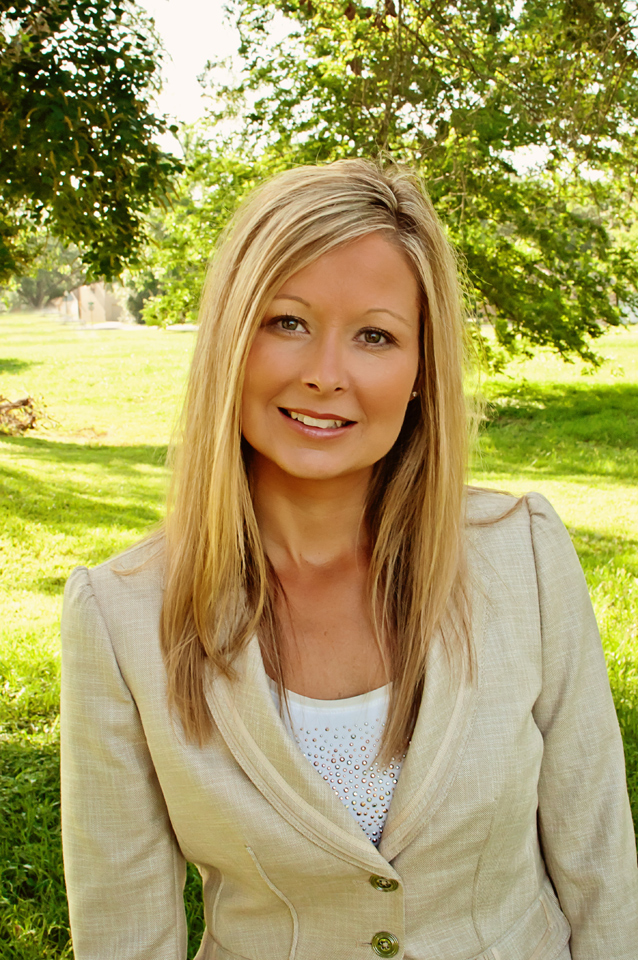 Stephanie Leipprandt Ouellette, MBA, RDN, LD
Stephanie has been working in the field of nutrition and dietetics since 1995. She earned a Bachelor of Science degree in Dietetics from Michigan State University, completed an Approved Pre-Professional Practice Program at Western Michigan University and earned a Master of Business Administration from Baker College. She's been a Registered Dietitian Nutritionist since 1996 and licensed in Texas since 2007. In 2008, Stephanie earned her certification in Childhood and Adolescent Weight Management.
Stephanie has extensive clinical & managerial experience, both in corporate settings and in the community. Now she wants to share her knowledge with you, because most (if not all) nutritional habits begin at home.

Stephanie and her family reside in Katy, Texas
Copyright © 2021 Customized Nutrition Newsletters, All rights reserved.